*****NOW A WEEKLY FEATURE!****
Welcome to True Tales from the Pink & Blue Trenches!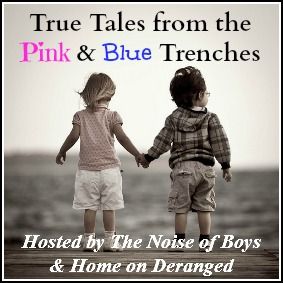 A NOW weekly series co-hosted by The noise of boys and Home on Deranged  where we swap our stories of our everyday life with toddlers – boys vs. girls style!
Find us EVERY THURSDAY!
The noise of boys is always glad to share our (mostly) humorous & everyday world with you, NOW Melissa shares what its like with her beautiful Annie & LeeLou, too!  Shared topics include:  shopping, baby proofing, mealtimes and more!
Miss anything?  Well click on a link below and catch up with us!
Make sure to visit and follow Melissa at Home on Deranged for more recent updates and posts!
We appreciate your visit and comments!