Every Thursday, we bring our True Tales from the
Pink

&

Blue

Series- which focuses on the ups and downs, the hilarious and the not-so funny moments, surrounding parenthood inspired by our own toddlers and preschoolers.
My co-host on this series is the fabulous tech mom Melissa from Home on Deranged. Not only is she now hosting a TV segment but she is also a co-author in the new Motherhood May Cause Drowsiness book! 
Another project we hold near and dear to our heart is our 2014 Holiday Gift Guide, which is currently in development and features some fantastic brands and giveaways.  It truly is a labor of love, so any time you enter or share a giveaway- it means SO much.
This post courtesy of the always fabulous tech mom, Melissa from Home on Deranged.
This week, it's my turn, and I'm sharing the tale of our new backyard playset/swingset/Sky Fort. That for some reason we decided to purchase in the first November in years with temperatures in the 30s. So our kids could stare out the window and adore it, but not actually get to play on it because the possibility of snow flurries just didn't seem worth the risk. Nah, just kidding. But it was damn cold. And totally worth it. This is how I found out that cold hands and warm hearts equal endless runny noses. And I'd do it all again. Although maybe in June this time.
Life is full of surprises, some planned, some a complete and utter shock. Our first child was a delightfully planned surprise. Our second child was one of the greatest shocks to my system I've ever experienced, and I'm still amazed every day.
We had been talking about buying a swingset for our backyard basically since we moved in. But you know how it is. The girls were too small, we were still working on getting the grass in the lawn to grow, we were looking for a good deal. And then one day about three weeks ago, it was a done deal. Swingset found and bought.
Just one small problem: who in the sam hill was going to put it together? Because that's 800 pounds over my weight lifting capability and plus, I'm short. How am I supposed to put together a Sky Fort 1000 that towers several fee over me?
Thankfully, now that we live near a major city, you can find almost any kind of service professional. Which meant we hired an assembling company.
Keep in mind that I had no idea this early fall polar vortex was going to arrive the same day that our swingset was to be delivered. But because we are nothing if not a comedy of errors here at Home on Deranged, the delivery driver – who was set for our house between 12 and 5 – had not showed up by 4ish. Thomas called, and he was assured it was out for delivery. No worries.
About 5 nanoseconds later, the phone rings. Um….no one has heard from the driver. No one knows where he is.
"Like, he's been hijacked?" I asked. "Not sure," Thomas said. "He won't answer his phone or check in or anything."
Another 2 minutes and another phone call. Apparently, no one knows where he is, and our swingset is still sitting in the loading dock, waiting to be put on a truck.
"So, he didn't get hijacked by the mafia?" I queried. "Nope, apparently the playground underground did not reach him," Thomas replied.
Around 7:30 p.m., Thomas got another call, this time to say that one of the drivers lives near us and can deliver it tonight. In about another hour. Since the installers were set for 9 a.m. the next day, it seemed like a really good plan.
Except that it was 40 degrees at 9 a.m. the next day, with a wind chill of 30 degrees. And that's as warm as it got all day.
The two installers were awesome. Awesomely dressed, that is. One had an Oscar the Grouch hoodie (I am not lying!), and the other one had a Manchester United hoodie. Classic. They worked quickly. Who can blame them? And in 7.5 hours we had a new playset in our backyard, an excited husband and two little girls dying to try out their new treehouse, as they kept calling it.
At first, they both just kept saying, "Wow," over and over. Not loudly; more like they were in awe of it. And they both asked several times if it was theirs, and if they were going to get to keep it. After several assurances, they got to work.
Funny thing about excited toddlers in blustery, 40 degree weather: they don't like to play outside. They both climbed to the fort and slid down. The 3 year old tried the monkey bars, but her hands wouldn't allow more than one bar. But the loved the dual swing. It was all worth it.
So it was with cold hands and warm hearts that we got endless runny noses. And I would do it again in a minute. In fact, I'll probably do it again tomorrow, when it's only supposed to be 38 degrees for the high.
I love this life.
How about you? Ever get your kids a fantastic, fabulous, awesome gift that they couldn't use because of season, weather, time or something else? Is there a better way to plan the giving of the "big" gifts? Share your thoughts in the comments, so I might possibly plan better in the future.
TODAY ONLY! The Amazon Kindle version of CLASH OF COUPLES IS ON SALE for $.99!
BUY it NOW!
 ⇓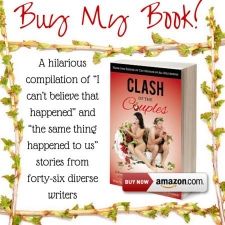 Related Posts via Categories