Watching my two toddler boys inspires me to write.
They finds creative moments in everything!  And though they have a pretty cushy life (it seems) due to their basic needs being met by others on a regular basis- However there are some things that really stink (pun intended) about being a toddler. This is based on observations with MY boys, but I hope you can relate to some of these.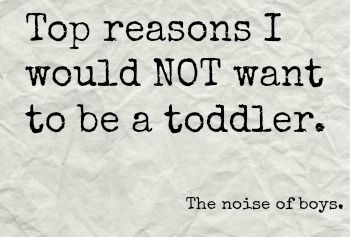 #1 Lack of taste buds or use of them
My boys could live off rice puffs, goldfish crackers and chicken nuggets.I swear they must have two taste buds- bland and blander. I get bored making lunches sometimes!  When I attempt to get fancy, it rarely works out well.
#2 They have so many toys
When I was a kid, I had one small toy box. My cabbage patch doll was the coveted, high ticket toy. I was mostly just sent outside to play in the dirt. My toddlers have it all.  I haven't necessarily bought it for them, either. Since we had children later (than most of our friends) a lot got passed down to them.  Does that stop them from wanting my cell phone, pots and pans or toilet paper.  Nope. They want everything they see, yet often can not find that toy that keeps their interest.
#3 People tell you "no" a lot
Now I do try to reason and explain cause, effect and offer alternative choices, but with a 16 month old daredevil  toddler…Well, "no"  is a necessity.  With my 3 year old, sometimes his verbal (bizarre) requests only leave "no" for an answer.
#5 Dreams are scary, vivid and repetitive
My kids can have nonsensical bad dreams about anything… perhaps that chicken nugget from dinner has become a ninja.
#6 Short term memory
Squirrel!  Hayden will start a conversation about Pre-K and turn it in to a discussion on Wii or Ninja Turtles.  We ask him not to talk during our bedtime prayers, and of course that is when the MOST important thing needs to be said. The thing that he can no longer remember. (I am just a bad with this one, lol).
No! For the 16th time, you cannot have fruit snacks for breakfast. It is not a fruit.
5 minutes later…
No! you cannot have fruit snacks for breakfast. Yada yada yada….
#7 Only two good channels on TV
This is their opinion. of course. I no longer watch TV other than Disney JR or PBSKids. And due to the short term memory thing (I think), they are willing to watch the same episode. Repeatedly. As a parent….I hope and pray, I get the TV turned off BEFORE Caillou begins, because that whiney voice attracts my children like butter to a biscuit!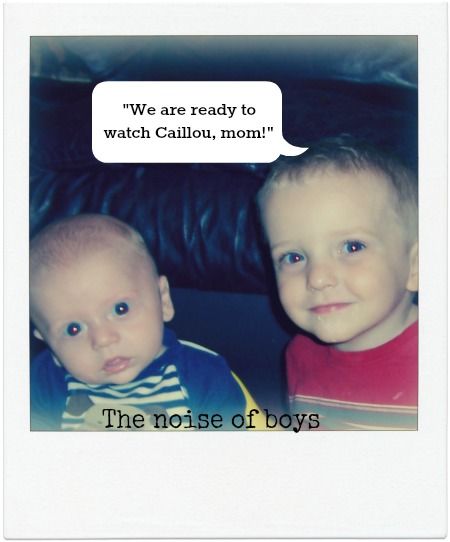 #8 They are always right.
Well they aren't, but you can't often REASON with an upset toddler. And they totally believe they are.
#9  Their version of "social" networking
Hashtag #EarSplittingScreams #ShrieksofJoy In groups, this is how they best communicate, relate and share. Whether or crying or laughing. How can they not suffer migraines on play dates?
#10 Diapers and/or needing parental assistance wiping your hiney.
Enough said. However, I don't think my older toddler has plans to EVER wipe his own behind. (Or nose).
#11 Fashion sense (or lack of awareness)
Okay maybe this is a positive in some was.  The fact that little munchkins will dress themselves like a G-rated Lady Gaga without notice of stares from others, could be considered creative.  We had friends that had a little one that dressed like a pirate for months.  He would roll up one side of his pants and wear one rainboot.  He insisted his mommy take him to public places so he could display his "peg" leg. But since toddlers want to repeatedly wear the SAME clothes for days I am adding this one to the list.
#12 Mom & Dad "wear" you like a backpack
As an adult, not sure how much I'd like this.  However its a necessity and we do it too!  LOL!
MY TOP REASON- I WOULD NOT WANT TO BE A TODDLER…
Blogging.  Moms (including myself) write about our children's' eating, sleeping, bad/odd/good behavior and maybe even poop habits.  We constantly take adorable pictures to share on Instagram.  We prepare meals found on Pinterest.  When our kids are fussy, we ask for solutions on facebook and IF it is a "good one", it could become a blog post and translate to thousands of blog hits. 🙂
SOME of these might be a GOOD reason to be a toddler, in the future I might write a counter post of the PRO's of being a toddler again!
I would love to hear your thoughts and comments!
Related Posts via Categories