I thought our home was "baby/safety proofed" since 2010.
In fact, we just got used to living with outlet plug covers, cabinet locks, safety gates and door knob wobblers. That was the year Hayden was born and we were ahead of the game, well-researched and older parents. I only mention the latter, because we had the advantage of hearing most of our friends' stories concerning safety proofing your home for a little one.
Hayden, the timid, naturally cautious boy
Hayden is dramatic and sensitive, as toddler, if you told him "no" he would simply cry as if you broke his heart. In many cases, he had a tendency to be timid or cautious. I am not saying he didn't get in trouble or need to learn "boundaries" but for the most part, he really looked for us to show him how to do something. I remember being plenty stressed about his tantrums starting at 12 months on, but I never really recall feeling scared for his safety. I was lucky.
Henry, the monster.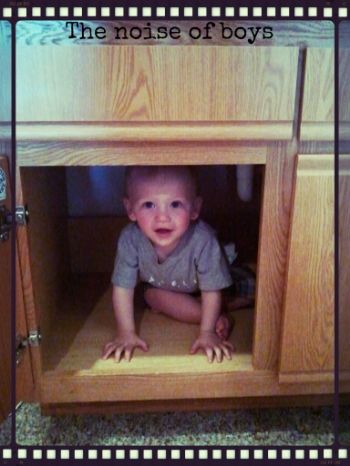 Henry, Oh, Henry…. Henry is 15 months old and just now taking his first steps. When he chooses to do it. I don't know how to best describe him. He is happy, quiet and… sort of a nightmare. He is insanely strong for a baby. Last week, Hayden took a toy away from him and he flew at his brother like he was a "Chucky doll". He scurries across rooms and up furniture like something out of The Ring. Tell him, no…. and he looks at you and laughs. I am not talking about a giggle, It is a laugh with a joker grin. He only says a handful of words but one of them is STOP! And he uses it paired with a defensive move- a pinch, a slap or OWWW a jab at your neck!

Our main floor is open in layout- living/dining/kitchen area and that is wonderful with kids, but lately it hard to step even two feet away from him. He climbs up and stands on top of toys, toy bins, laundry baskets, the sofa, the toilet, even his tricycle! He has turned my stove on (in front of me and we now have stove knob locks). He attempts to pull out the outlet covers from the walls. He will stack his toys, bins and once even an 8 pack of paper towels and use these items as stairs to reach something. He uses the sofa to torture me, he climbs it with ease, races from side to side and dangles close to the edge. We have bolted large furniture (like the tv & stand) to the walls. He is in the 90th percentile for height- so "my little monster" can climb on the reach anything left close to the edge of countertops and has even climbed in my dishwasher while I was unloading it!
I find I have new gray hair each day. I get lots of exercise chasing him and even though I thought my home was safe….I am considering padding the walls for his safety.
Do you have any super toddler proofing tips?  Or similar situations to share? We'd love to hear from you!
PS! True Tales from the Pink & Blue Trenches is NOW A
WEEKLY

SERIES!
Next Thursday, look for Melissa's view & stories from Home on Deranged– The girls side, of toddler proofing!
Related Posts via Categories