As a mom to my first preschooler, I am going through all of my check-lists and preparing for the open house, later this month. I am expecting the actual day to be really hard on me, because I don't think Hayden will even glance back in my direction!
My Prep List for Pre-K
Pre-K doctor check up! Done! (Hayden has grown an inch since April! Wow!)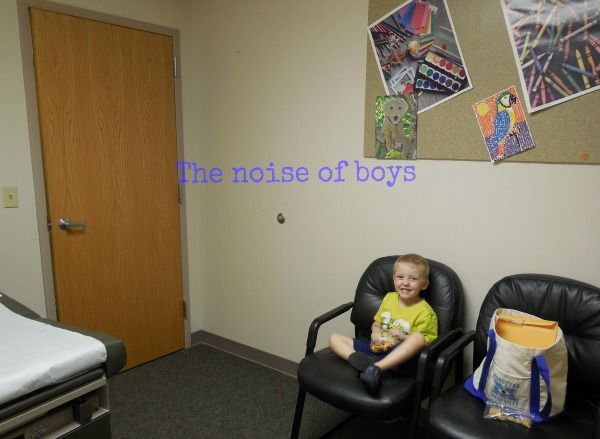 Clothes shopping! Done (special kudos to SophiasStyle.com or it definitely would not be! read about my crazy experiences the August True Tales from the Pink and Blue Trenches series and see the apparel in my upcoming SophiasStyle.com review)
Backpack! Done- gift from my sister.  He is so thrilled to have it!  This kid loves Ninja Turtles!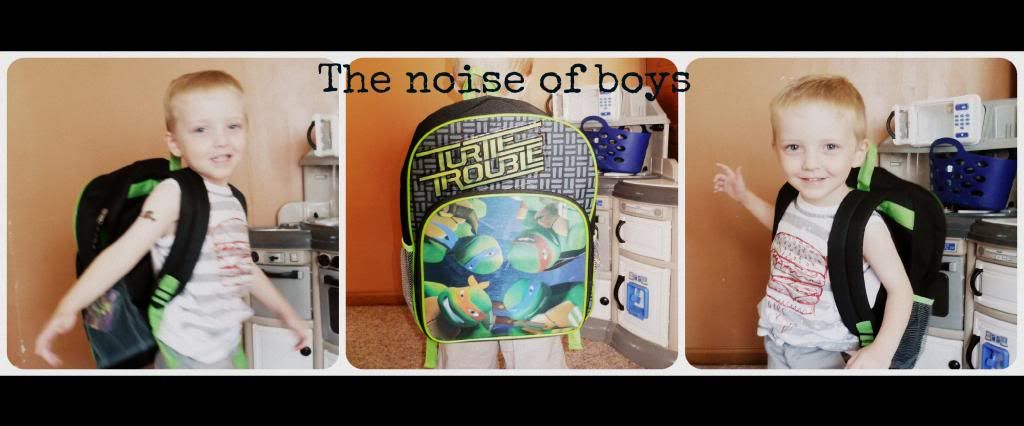 I have been driving Hayden by his school and reminding him that he will soon start to attend.  Since all he can really see is playground equipment, he is really excited!
I fully believe Hayden is academically ready for Pre-K (recognizes alphabet & numbers, knows right & left, potty trained… etc.)  However, after a few sessions this summer in tumbling & swimming classes, I do recognize that we need to work on focus and following verbal directions.  This is interesting to me, because he has incredible focus visually. Books, puzzles and toys keeps his interest (for long periods of time!)
However, if you ask him to; pick up his cup, place it on the table and bring a tissue back… he really struggles with it.  He also is not used to waiting in a line of kids, patiently, for his turn at something.
What I am doing to "practice" focus, directions, patience and other necessary skills!
Simon Says- By playing this game more often (as well as "Red light, Green light") I am hoping to aid in his listening skills.  At 3 years old, he has difficulty understanding not to do something if "Simon didn't say" but we are enjoying the fun time while paying "slightly" better attention to different tasks.
High Five Magazine- Hayden's grandparents subscribed all the kids to this magazine ( it is the from the publishers of Highlights Magazine and designed specifically for 2-6 years olds) and if you haven't had the chance to see one- I HIGHLY recommend it!  Each issue has puzzles, stories, activities, crafts and Hayden looks forward to reading time!
Sharing- I will say Hayden is actually pretty good at sharing, except with his brother on occasion.  I actually worry he might let other kids take things from him.  So we have been working on polite ways to ask for a turn and to offer a toy to others.  Daniel Tiger's Neighborhood on PBS kids has a great episode on sharing. The other thing I am actively doing more of, is purposely making sure younger brother "takes a turn" first, while Hayden waits a bit longer.
Sorting laundry- Each week, Hayden has some chores to do.  Recently however, I have decided helping to sort laundry would be a good fit.  He already knows colors, but it is an effort to stay focused on a lengthier task and goodness laundry in this house seems to be never ending!
My little backseat driver-  When we drive somewhere close by, I use the time to practice our "rights, lefts, forward and stops", he is becoming quite familiar with getting around in town. Currently, he is correct about 8 out 10 times with his answer.
Working on the art of conversation- While in the vehicle, we also practice our introduction and skills related to conversation.
Hi my name is Hayden X. I go to X preschool I am 3 years old.  How are you? It is nice to meet you. I live in X city, in X State.
We need to begin learning address and phone numbers!
Hand washing- Hayden hasn't been in daycare since he was 18 months old, but it seemed like he was always sick back then!  I am really making efforts to work on improve his hand washing habits now!
Is your child excited to start (or go back to school?) Do you have any tips on prepping a child for school? Please share!
Related Posts via Categories