*Note to facilitate this review, I received The #Glamourlook Mary Kay® VoxBox from Influenster, at no charge. All opinions are mine and honest.

I was so excited to learn, I had been selected to review the Mary Kay VoxBox by Influenster.  First, let me explain what all of these words mean
Influenster is a free -to-join community, of invited members who have expressed interest in products and providing feedback on their personal experiences, using various social media channels and more. Interested in checking this program out?  I have a web link above and a badge on my sidebar!
A VoxBox- Once you begin working with Influenster, you could be selected to receive a VoxBox.  It is a box filled with products to test and review. Woot Woot!   The VoxBox might be event, seasonally or brand themed.
Mary Kay- You probably have heard of Mary Kay, attended a home party or maybe even know a Independent Beauty Consultant. In my case, It has been probably five years since I have attended an at home consultation, looked at a catalog or tried a product. Looking at the collateral materials I received in my VoxBox- I was very impressed by Mary Kay's growth and development in areas of marketing, package design and the way they presented the "collections"  they offered.
My "before" picture! Wearing my everyday, tired mommy look
for review purposes, I had on no additional make-up. Yikes- these pictures were hard for me to look at! I always wear foundation and lipstick- at a minimum!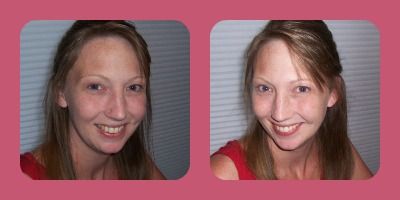 Mama's Getting Glam: Up close with the contents of the Mary Kay® Voxbox
My Starlet On-The-Go Kit  included: Mary Kay® Lash Love® Lengthening™ in I ♥ black, Lash Primer, Cream Eye Color in Violet Storm, Cream Eye Color/Concealer Brush and True Dimensions™ lip stick in Pink Cherie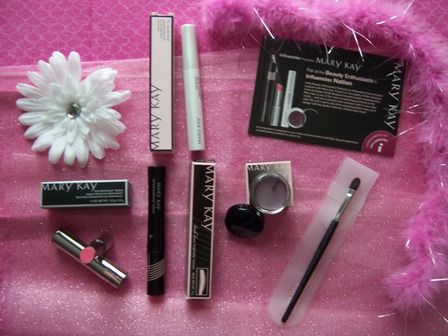 Mary Kay® Lash Primer ($15.00) and Mary Kay® Lash Love® Lengthening™ in I ♥ black ($15.00)
I have never used a lash primer before.  I was shocked. My lashes are light colored, thin and sparse.  As I applied, I could actually see my lashes thickening and looking visibly more defined. I did not apply a heavy amount, at all.  I then added the lengthening mascara. WOW.  I had to dig out my eyelash curler. I hadn't used that in years.
Typically when buying Mascara, I shop for whatever I have a coupon or maybe find a special deal on. I look for lengthening, bold and thickening.  I have never seen results like these.  It wasn't just me who noticed, my husband was very impressed and commented how well my eyes stood out!
Even though I had the appearance and results you'd receive from false lashes- by using both the primer and mascara only my eyes did not have an overly heavy feeling. I was worried about how difficult, it might be to remove and I am pleased to report- It was easy to remove.
Overall, I loved these two products and was extremely satisfied with the results.  I would really like to try the Mary Kay Lash and Brow Building Serum from the same line.
Mary Kay® Cream Eye Color in Violet Storm ($22.00) Cream Eye Color/Concealer Brush ($10.00)
Next, I received the Cream Eye Color in Violet Storm color.  I liked the smooth application and the easy coverage. Despite humid conditions it did not crack, smear or fade.  However for me, and this is totally personal preference, the color amplified my dark under eye circles.  This could have been different if I added some eye shadow or additional make-up from my personal collection. Since I was reviewing this product, I did not want to do that.  I would have preferred if it came with a highlighting or even lowlighting companion or accent color.  Again, this is completely personal shade preference, not to say the use of the product would not be wonderful on a different complexion. Priced at $22.00, I feel like the amount of the product was ample, but with one color alone- I would probably not re-purchase.
The Cream Eye Color/Concealer Brush- Simply wonderful.  I am very happy with it.  It will be a make-up "must have" in my collection. I loved the feel, the coverage provided and size.  It is one of the best brushes, I have worked with. It seems very durable and manufactured well! I feel it is priced well at $10.00. Absolute keeper!

Mary Kay® True Dimensions™ Lip Stick in Pink Cherie ($18.00)
Finally, the True Dimensions™ Lip Stick.  Great application, feel and packaging. Downside for me again, was a personal color preference.  I was not a fan of the bright pink.  If you are a pink person, you will probably love it.  It remained shiny, smooth and in place. The amount of the product is good, but at $18.00 I still feel slightly over-priced.  I would be interested in the other colors like sienne brulee, mystic plum or spice n nice- especially if offered in a "color package", maybe with accompanying lip liner.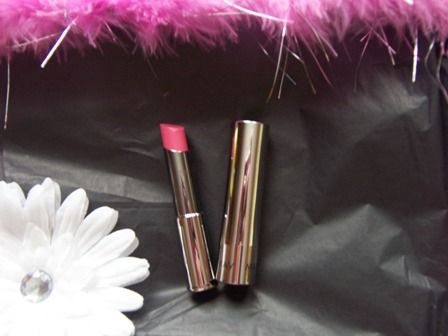 My application and "after" photo!
After application, all I did was brush my hair, but I felt like a new woman!  Typically, I would have foundation on, but wanted to be true to the review of these products.  I did utilize the True Dimensions™ Lip Stick for some cheek color and overall was happy with the results after only using 4 products and 1 tool.

Lucky for me, my neighbor is a Mary Kay® independent consultant, because after viewing the new catalog and website, it did give me the inspiration to inquire about some additional products!
To learn more about Mary Kay®, the company or to find an Independent Consultant near you- Click Here! or find Mary Kay® on Facebook or Twitter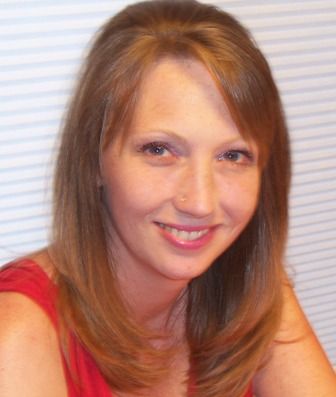 *Note to facilitate this review, I received The #Glamourlook Mary Kay® VoxBox from Influenster, at no charge. All opinions are mine and honest or it would not appear on this website. My experiences may differ from yours.

Related Posts via Categories